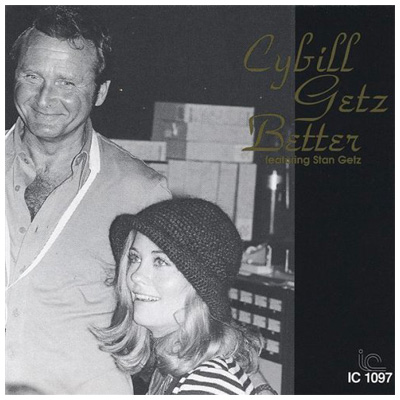 Cybill Getz Better
1978
Released by Inner City
Description:
Cybill collaborates with famed saxophonist Stan Getz. This is a repackaging of MAD ABOUT THE BOY with a re-ordered track listing.
Reviews:
"Cybill Shepherd knows the material, both in reading the lyrics and reacting to her accompanists."
ONE OF THE GREAT non-issues of all time, for me, was always the prejudice some people are supposed to hold against spectacularly beautiful people. For one thing it most definitely wasn't a problem I was very likely to have. For another, good looking people usually seem to do better than their uglier brothers and sisters. But Joe Baltake, the Passionate Moviegoer, has finally changed my mind. The problem exists. It took him several years, but he proved it. Joe is a Cybill Shepherd fancier of great dedication. For me, she was always a pretty good actress who looked so good that my teeth hurt just from looking at her. "The Last Picture Show" alone has her locked into my mind forever. But Joe paid more attention. He even liked her in the far less impressive films she made later, the ones I never bothered to see. Film critics, of course, see everything. Which brings us to the point. Joe walked in early this week with a record. On the cover was that familiar beautiful woman. In a corner was an inscription in ink reading, "love to Joe," proving that she knows who her friends are. He insisted that I listen to it and turned his treasure over to me, pausing only to threaten dire events if he didn't get it back. I was dubious. I'M NOT ANY MORE. "Mad About the Boy" (Inner City) is one nice record, on which Shepherd sings classics like the Noel Coward title song, accompanied by such eminences as Stan Getz and Frank Rosolino.
She is a beautiful model and an accomplished actress. She is also a fine, very musical singer with a nice touch on both jazz standards and the Brazilian sound that's fascinated Getz for years.
The album was recorded nearly four years ago, a long time for material this good to go unheard. It is also the work of a woman who was a singer before the modeling and acting careers began and has learned a great deal along the way. She knows the material, both in reading the lyrics and hearing her accompanists and reacting to them. Perhaps jazz vocalists won't be extinct when people like Betty Carter and Sarah Vaughn end their careers after all. THAT'S NOT TO SAY that Shepherd has their kind of overwhelming pipes. She doesn't. Very few people, even some great ones didn't. She is much more reminiscent of singers like the older Frank Sinatra or Lee Wiley, singers whose ears and intelligence are primary factors in their styles. Getz' tenor is the major instrument. As usual, it is impeccably right. Probably the greatest compliment to Shepherd's performance here is that she reaches the level of her own musicians, most emphatically on "I'm Old Fashioned." Matter of fact, she even reaches the level of the songs, which also include marvelous old tunes as "Speak Low," "I Can't Get Started" and "It Never Entered My Mind." Instead of being just another aging model, Shepherd has impressively shown that she's a very good young jazz singer, a trade that has a great deal more utility than showing off the latest clothes anyway. Besides, you can still do it when you're 64. I'm not quite ready to send off a check to the Gorgeous Liberation Movement, but I am convinced that a fine talent has been held back because its owner seems to a lot of people to be entirely too beautiful to sing as well as she does.
RICH AREGOOD
Philadelphia Daily News
---
"MAD ABOUT THE BOY"
Cybill Shepherd and Stan Getz. (Inner City Records 1097). You could astound your friends at parties by throwing the voice on "Mad About the Boy" at them and asking "Guess who?" Warm, lilting, soft, swinging, raising nice echoes here and there of Lee Wile y and even of Ella, but it's Cybill Shepherd, backed by saxman Stan Getz at his own most melodic, imaginative and supportive, with a rhythm section. The actress is best and most ingratiating when she is gentlest, confident when she aspires to belt, but on Alberto Ginastera's "Triste" and on "It Never Entered My Mind," for examples, she and Getz are a terrific teaming, which would never have entered my mind.
Charles Champlin
Los Angeles Times
---
When Cybill mentioned to me, quite casually, that she had recorded an album a couple of years ago, featuring Stan Getz, that had never been released, my interest was understandably piqued. I already had valid evidence of her warm, convincing and unpretentious vocal talent, through an album she had sent me, made for a small company in her home town of Memphis, Tenn. The fact that she selected Phineas Newborn and some of the best black musicians in
Fm 'is company her id some't0hiang about her musical taste.
Cybill Shepherd is no vocal dilettante. She was a singer before she was an actress; but after her 1968 victory as National Model of the Year, and her transition from modeling to movies, her aspirations as a singer were kept largely in limbo.
Now she is back, playing the better jazz rooms, invariably accompanied by a splendid rhythm section. In selecting Stan Getz as her principal accompanist (and virtual co star on several tracks), and Oscar Castro Neves to sketch the charts and play guitar, Cybill indicated her true sense of direction. Given this elegant setting, and having made an admirable choice of songs, she reached a peak in this album. All the right influences can be detected here: a touch of Lee Wiley, and, as she puts it, "I've listened to Louis Armstrong, of all periods, and of course Billie Holiday. As for Tony Bennett, I have practically worn out the first album he made with Bill Evans." There will be many among us who will practically wear out Cybill Shepherd's album with Stan Getz. It is the stuff of which jazz vocal Grammy award winners are made.
Leonard Feather
---
Click here for Old Hippie Rick review.
---
Track Listing:
IT NEVER ENTERED MY MIND
(Rodgers-Hart) 4:42

THIS MASQUERADE
(Russell) 3:51

I CAN'T GET STARTED
(Duke-Gershwin) 3:33

MAD ABOUT THE BOY
(Coward-Washington) 3:25

DO IT AGAIN
(DeSylva-Gershwin) 4:13
PLEASE DON'T TALK ABOUT ME WHEN I'M GONE
(Clare-Stept) 2:15

I'M FALLING IN LOVE AGAIN
(Gimbel-Legrand) 3:07

SPEAK LOW
(Weill-Nash) 3:03

I'M OLD FASHIONED
(Kern-Mercer) 3:05

TRISTE
(Ginastera) 3:40

Frank Rosolino (tb)
Mike Altschul, Andreas Kostelas, Arthur Smith, Richard Spencer (fl)
Stan Getz (ts)
Terry Trotter (p)
Oscar Castro-Neves (g, key, arr)
Monty Budwig (b)
Octavio Bailly (fender b)
Joey Baron (d)
Paulinho Da Costa (per)
Cybill Shepherd (vo)
Helder Studios, Hollywood, CA, May 5, 6, 8 & 9, 1976