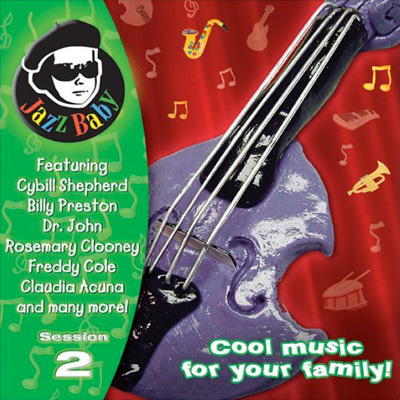 Jazz Baby Volume 2
2005
Released by Casablanca Kids / Flying South Productions
Description:
DON'T MEAN A THING IF KIDS DON'T GOT THAT SWING
Star-studded Artist Lineup Retools Jazz Styles for Young Listeners on New Jazz Baby CDs
Cybill Shepherd's four Golden Globe Awards, four People's Choice Awards, and stellar work (including two groundbreaking series Moonlighting and Cybill) in television, film and theater are but part of the story. Cybill began singing the church choir at age eight and fronted a folk singing group in high school.
Throughout her career, the Memphis, TN, native has always found time for musical pursuits as a versatile vocalist whose repertoire ranges from rock to blues to jazz to classic pop standards and includes her original compositions as well. She has played to sold-out concert houses around the world and has released eleven albums featuring guest appearances by respected artists such as Stan Getz, Phineas Newborn, Jr., Gene Bertoncini, Mundell Lowe, George Duvivier, Oscar Neves, Jamil Nasser and Peabo Bryson.
Track Listing:
Toyland
Dr. John
Clementine
Billy Preston
Toora Loora Loora
Cybill Shepherd
Keemo Kimo
Freddy Cole
Kum Ba Ya
Claudia Acuna
Itsy Bitsy Spider
Kymberly Evans
Ring Around The Rosie
Claudia Acuna
Scarborough Fair
Barbara Morrison
ABC Medley
Kymberly Evans
I've Been Working On The Railroad
Steve Blackwood
Brahm's Lullaby
Eldad Tarmu
Fuzzy Wuzzy (Wuz A Bear)
Rosemary Clooney
PRODUCER
LISA BETH KOVETZ
Lisa Beth Kovetz is an award winning writer and producer. After graduating from Smith College, Kovetz migrated to New York City where she worked as a playwright and a stand up comic. Kovetz's company Flying South Productions produces children's media and short films including such titles as Jazz Baby, Oliver in the Bath, Janice + Bill, Cornbread, and Mental Hygiene. Producing awards include the Film Advisory Board's Award of Excellence, The Pinnacle Book Achievement Award, and the Kodak Emerging Filmmaker Award. Born in Brooklyn, New York, she currently lives in Los Angeles with her husband, jazz musician Eldad Tarmu, and their two sons.
CONTRIBUTING PRODUCER
JOEL DORN
Possessor of one of the most catholic and breathtaking resumes around, producer Joel Dorn is a four-time Grammy winner who spent his formative years learning his craft from his mentor, Atlantic Records co-founder Nesuhi Ertegun. The Philadelphia native, whose one burning desire in life remains unrealized—he wishes he had played for the 1955 Brooklyn Dodgers—has ranged far and wide in staking a claim to being one of the most important producers of his time. His credits include the Neville Brothers' brilliant 1981 album, Fiyo On the Bayou; Roberta Flack's "Killing Me Softy"; Bette Midler's debut album; projects ranging from jazz legends on the order of Rahsaan Roland Kirk to gospel giant Marion Williams to prototypical Southern rockers the Allman Brothers to western swing neoclassicists Asleep At the Wheel to baroque new wavers Mink DeVille to authentic American folk voices such as Steve Goodman. Today he runs his own New York City-based label, 32 Records, and stays in shape in case Stephen Hawking's theory about time being reversible proves out and the opportunity to play for the '55 Dodgers presents itself.
JAZZ BABY ARRANGERS
TOM ADAMS and CYBILL SHEPHERD
With over twenty-five years in the industry, Tom Adams has accompanied some of the biggest names and most enduring legends in the entertainment field. As a keyboardist, vocalist or conductor, he has worked with an eclectic list of performers such as Anita O'Day, Coolio, Jewel, Keely Smith, Bette Midler, Linda Hopkins and Mel Torme. From 1995-1998 Tom worked as composer on the Emmy award winning CBS television sitcom Cybill. Since then he has been the musical director for Ms. Shepherd and was her co-writer on the compositions "Menopause Blues" and "Talk Memphis to Me." Cybill Shepherd has a thirty-five year musical history, collaborating with the likes of Stan Getz, Phineas Newborn, Jr., and other jazz legends. Over the years she has honed her skills as a vocalist in jazz clubs and cabarets along side such greats as Alberta Hunter. Around the world Cybill continues to perform her live act Cybill Disobedience, based on her New York Times best-selling autobiography. Most recently she collaborated with Tom Adams on arrangements and original compositions for her eleventh recording At Home With Cybill.
CENGIZ YALTKAYA
Pianist/composer/arranger/producer Cengiz Yaltkaya has a long and impressive resume of studio work that includes projects with highly regarded jazz artists such as Herbie Mann, Jay McShann, Gerry Mulligan, Michael and Randy Brecker, Dave Sanborn and Joe Morello. As a producer/co-producer/associate producer his credits include recordings with Carly Simon, Chaka Khan, Ken Werner, Felix Cavaliere, Bill Chinnock and The Dig. Moreover, he has scored several feature films, including Out Of the Rain, Curfew, Deadly Manor, Luggage Of the Gods, and Amateur Hour. As a solo artist, the Los Angeles resident's latest CD, Visits, a duet with vibraphonist Tarmu, features his latest original compositions. A graduate of the Berklee College of Music, Yaltakaya studied classical piano with Margaret Chaloff and Emanuel Zambelli, and jazz piano with Sir Roland Hanna and Charles Banacos.
ELDAD TARMU
Vibraphonist/composer/arranger Eldad Tarmu has performed and recorded with a formidable array of jazz giants such as Ernie Watts, Freddy Hubbard, Bob Sheppard, Joe La Barbera, Billy Higgins, Sue Raney, Al McKibbon, and others. His own compositions comprise the bulk of the repertoire of the Eldad Tarmu Jazz Ensemble, which holds forth at various Los Angeles venues and tours the world as well. His musical vocabulary is expansive and expressive, embracing Latin Jazz, Cuban and Brazilian music, along with standards from the great American songbook. His most recent CD releases are Exotic Tales, which combines Middle Eastern music and jazz, and a duet CD with pianist Cengiz Yaltkaya entitled Visits.