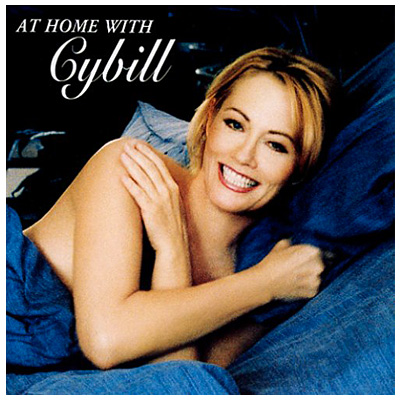 At Home With Cybill
2004
Released by CD Baby
Description:
A note from Tom Adams, producer, musical director, accompanist, and songwriting partner:
Inspired by a series of archived rehearsal recordings, At Home With Cybill quickly took on a life of its own. This collection of carefully selected material and deeply personal performances has indeed been produced at Cybill's very own home, with her voice and all it's warmth coming to you via a microphone placed in her wardrobe closet. While retaining the comfortable tone and candor of the earlier recordings, the bar was lifted and every track underwent an unhurried scrutiny. Careful attention was lavished on the recording of the voice and piano and a handcrafted approach taken to achieving just the right blend between the two. The result is the sincere and intimate musical portrait contained here and one that most certainly will make you feel At Home With Cybill.
A note from Larry Goldman, producer and engineer:
On this project we used a stereo pair of AKG 414's on the Yamaha C3 Grand Piano in a parallel configuration at a slight upward angle (one on the bass part of the harp the other at the treble end). For Cybill's vocal we used a Neumann M 149 with its cardiod pattern selected and slight bass roll off at 80 Hhz. We used a small pop filter before the mic. Both the vocal and piano microphones were run through a Yamaha O1v mixer for monitoring and patched directly to a Tascam DA-38 via tdif connections from the mixer. Little or no equalization was added in the chain and the reverb used for Cybill's voice was digitally added from a Lexicon 300 stereo reverb unit for just a touch of ambience. The Tascam tapes were then uploaded digitally direct to a Mac G4 dual 533 for editing and mixing in a 32-bit environment. The final mixed and mastering were dithered down from 32 bits to 16 bits via Waves software and burned to a final CD master for replication.
Track Listing:
I've Learned A Lot About the Blues (3:23)
Shirley Eikhard
My Romance (3:19)
Lorenz Hart / Richard Rodgers
Sophisticated Lady (2:15)
Edward Kennedy Ellington / Mills Irving / Parish Mitchell
I Could Write A Book (2:30)
Lorenz Hart / Richard Rodgers
You Took Advantage of Me (3:31)
Lorenz Hart / Richard Rodgers
Someone To Watch Over Me (3:10)
George Gershwin / Ira Gershwin
Begin the Beguine(4:24)
Cole Porter
Fields of Gold(4:01)
Sting
Graceland Revisited(4:18)
Cybill Shepherd / Tom Adams
Why Don't We Run Away(2:25)
David Zippel / Byron Sommers
If I Had My Way (3:57)
Shirley Eikhard
The Child In Me Again (3:05)
Pamela Anne Dinerman
I Have Dreamed (3:45)
Richard Rodgers / Oscar Hammerstein II
All Of Me (1:12)
Gerald Marks / Seymour B. Simons